Free Tools for
Health & Wellness Coaches
The Niche Course for Health Coaches
A FREE recorded video training for Health and Wellness Coaches. Define your Niche so you attract your ideal client. During this training you'll learn:
Video & Guide #1– 5 Steps to a Profitable Niche 
Video & Guide #2- 3 Steps to Messaging that attracts Paying Clients 
Video & Guide #3: 3 Steps to Creating Irresistible Offers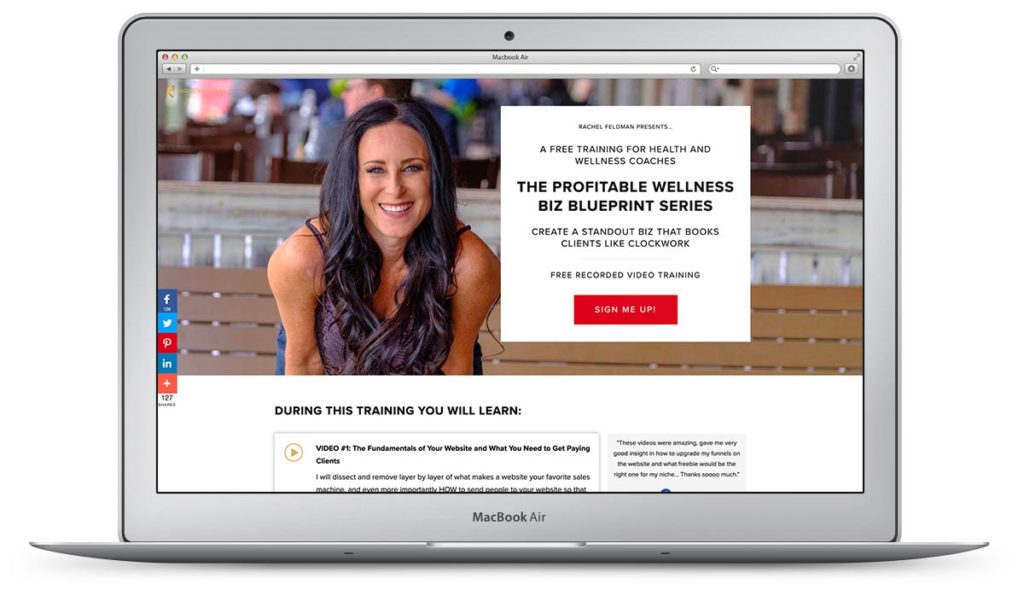 The Profitable Wellness Biz Blueprint Series
A FREE recorded video training for Health and Wellness Coaches. Create a standout biz that books clients like clockwork.
During this training you'll learn:
VIDEO #1: The Fundamentals of Your Website and What You Need to Get Paying Clients
VIDEO #2: List Building And Marketing 101: Build Authority, Boost Credibility, and Be Known For Your Expertise
VIDEO #3: Creating Your Signature Email Funnel and Signature Business Funnel
A FREE recorded video training for Health and Wellness Coaches. Build your list that turns customers into clients like clockwork. 
During this training you'll learn:
VIDEO #1: Creating Opt-in Freebie Content that Converts
VIDEO #2: Choosing the Right Format for Your Freebies
VIDEO #3: Turning Audience Pain Points into Profits
HEALTH COACH BUSINESS TOOLS GIVEAWAY
Every health coach needs an extra hour in the day or a miracle to get that endless to-do list checked off. With the FREE Health Coach Business Tools Giveaway you'll have more freedom to get your other tasks accomplished.​
In this kit you'll get:
A plug-n-play Newsletter template
20 Social Media Images
Beautiful Daily Inspirational Journal for your clients
1 Day Detox Blog Post
Livestream Strategy Guide
"You make this dream possible for so many of us who don't know where to start. When I graduated with my health-coaching certificate, all I knew was that I wanted to help people, but I didn't realize how much 'business stuff' I needed to know. I have learned so much from you since I started coaching with you. You give so much valuable information to help all of us health coaches to succeed. I know it comes from the heart that you want all of us living our best lives with our business and ourselves. You make what seems to be impossible- possible. I honestly can't thank you enough for so inspiring and helpful. You really help me get out of my comfort zone and encourage me to be my authentic self. I love you for that! Thanks, sister!"
My name is Rachel A. Feldman
I am a kick-ass business coach for health and wellness professionals, who are sick and tired of having businesses that do not attract the ideal client or when they do, they do not have a system to teach them. I help them define niche, story, backstory, a system, and a leak-free business sales funnel. I had my own health struggles that lead me to be a health coach and then organically became a biz coach after my struggles and mastered my own leak free business funnel system. I went from making 13k to 6 figures by year 3 and now I am proud to say, I rock a business that feeds my soul, my spirit, and my family.