You became a health or wellness coach for a reason.
Are you making money from coaching right now, or are you always giving away your brilliance for free?
TRUTH: You deserve to get paid to do what you love. I have the perfect solution for you to upscale your business. Get ready to book your calendar, and make some cash.
Are you pulling all-nighters in search of the best recipes & writing plans for your clients?
FACT: Finding 10 recipes online does NOT take 10 minutes. No way, no how. Try 3 hours.
Are you trying to squeeze in an hour or two after your 9-5 job to write your email sequence copy, latest blog post, and still show face on social media?
Social life. That must be a joke. Who has time for a social life OR sleep OR the gym? You deserve time-saving tools. Ready to enjoy a Friday date night, a drink with the girls, or a memorable family day? …
Are you wasting hours creating a PPT presentation & script from scratch for your upcoming webinar?
If you have to create one more PPT, you are going to throw your laptop out the freakin' window. Get ready to ditch the headaches caused from tech overwhelm. I've done it all for you.
My name is Rachel Feldman and I went from making 13k my first year,
then 27k my second to tripling my earnings in year 3 with a solid sales funnel.
CREATE YOUR 6-FIGURE COACHING BUSINESS TODAY.
Let me help you build your business THE RIGHT WAY.
Get immediate access to your FREE Health & Wellness Coach Newsletter Strategy Kit
HEALTH & Wellness Coach Newsletter Strategy Kit
FREE Health & Wellness Coach Newsletter Strategy Kit for new and seasoned Health & Wellness Coaches looking to start or expand their practice using time-saving business tools .
In this kit you'll get:
A customizable opt-in freebie
A niche clarity guide
A newsletter strategy guide
4 Done-For-You Newsletters
HEALTH COACH BUSINESS STARTER KIT​
FREE Health Coach Business Starter Kit for New And Seasoned Health Coaches Looking To Expand Their Practice Using Time-Saving Business Tools Proven To Work.

HEALTH COACH BUSINESS TOOLS GIVEAWAY
Every health coach needs an extra hour in the day or a miracle to get that endless to-do list checked off. With the FREE Health Coach Business Tools Giveaway you'll have more freedom to get your other tasks accomplished.​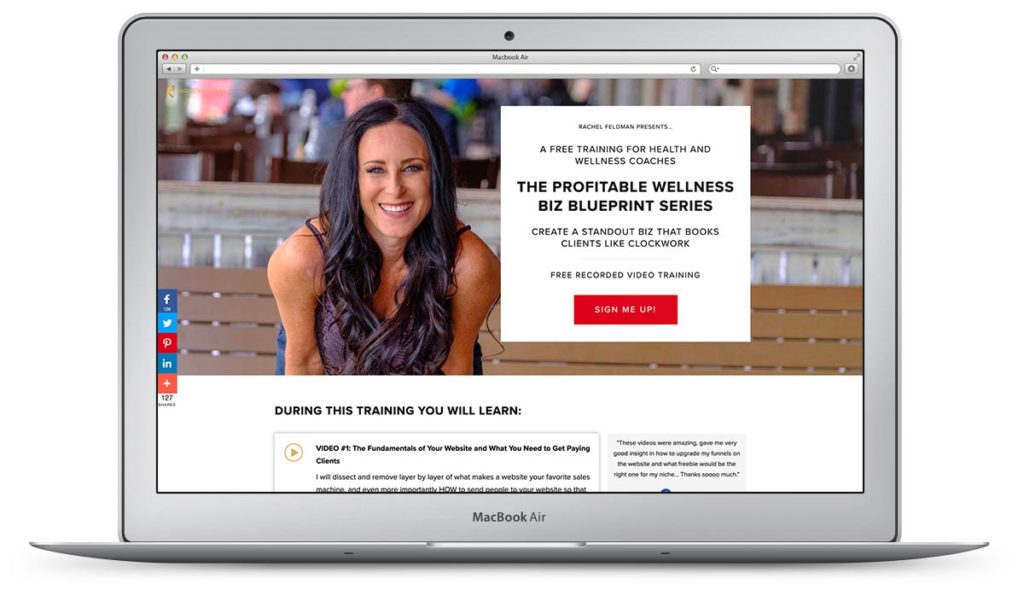 The Profitable Wellness Biz Blueprint Series
A FREE recorded video training for Health and Wellness Coaches. Create a standout biz that books clients like clockwork.

Health & Wellness coach List-Building 101 Series
A FREE recorded video training for Health and Wellness Coaches. Build your list that turns customers into clients like clockwork.

Rachel Feldman is a wellness momma, health coach, and business niche coach. After health coaching, she realized she needed to help health coaches to change the world. Rachel helps her clients to build epic businesses online and offline using a strategic sales funnel even if they are a new coach.After only earning 13K her first year in coaching, she knew she needed to learn how to create a sustainable business built with a solid sales funnel. Rachel went from making 13K to 72K by year 2 1/2 and then broke six figures in her third year of business.
Today, Rachel teaches the same system she built her successful health coaching practice to other health and wellness professionals. She's helped more than 8,000 health coaches rock their biz to the next level making the money they deserve.  Rachel Feldman, Owner of rachelafeldman.com, Health Coach and Business Coach, Contributor at Forbes, Huffington Post and Thrive Journal.
She works with coaches in her private practice and is the creator of the Done For You Programs for Health Coaches. She created these programs for coaches so they could spend less time creating and more time marketing their business and brand. She knows the importance of saving time being a Mom and a CEO.  You can find her work at www.rachelafeldman.com and www.yourhealthcoachbiz.com
My name is Rachel A. Feldman
I am a kick-ass business coach for health and wellness professionals, who are sick and tired of having businesses that do not attract the ideal client or when they do, they do not have a system to teach them. I help them define niche, story, backstory, a system, and a leak-free business sales funnel. I had my own health struggles that lead me to be a health coach and then organically became a biz coach after my struggles and mastered my own leak free business funnel system. I went from making 13k to 6 figures by year 3 and now I am proud to say, I rock a business that feeds my soul, my spirit, and my family.