You became a health or wellness coach for a reason.
You may have been like me and have suffered diagnosis after diagnosis.
Maybe you witnessed another one in your family suffering.
Maybe you are just plain angry with a broken system.
Regardless, you were born to coach. Right?
Agreed.
My name is Rachel Feldman and I went from making 13k my first year,
then 27k my second to tripling my earnings in year 3 with a solid sales funnel.
I nailed down my story
I owned it 
I nailed down my pain points and the pain points of those I serve
I chose 3 groups within my niche
I created an avatar for each and then their buyer avatar 
I turned my pain into my product (UC, allergies, autoimmune, digestive issues, detox)
I created a system for my clients to increase my closing rates on discovery sessions 
I had many freebies leading to 1-1 discovery sessions or my low cost groups
I hosted workshops – paid and free.
I had multiple opt-in freebies, Signature Powerpoints, Gateway Programs aka non-committal programs, My Signature flagship Program.
I created a healthy work with me with a Three-Tier approach.
I ditched the 6-month model in my 1-1 and used the three Tier  (single session, one month, three month).
I had 3 do it yourself programs on my website (low cost and tripwires) – which helped my potential buyer understand what it would be like to work with me and/or test drive before making a large investment in 1-1 coaching.

A detox
A paleo program for gut health
A weight loss program based on gut health principles
I ACTUALLY started making money.
What is a sales funnel?
A sales funnel is a visual representation of the specific steps required to acquire a lead, and sell your product to them in a timely manner.
This is why I believe every coach or wellness entrepreneur needs a healthy funnel.
A system isn't just an idea of how things fit together. It has to have the right pieces:
A list-building strategy: It's really tough to sell a program to dozens when your list consists of only 5 people (or 0). Want to kick seriously profitable butt on your next launch? You need community support and a plan of action to get the word out about your great work.
A kickass set of info-packed, life-changing programs ready designed just for this season: Teach your clients how and what to eat with SEASONAL programs based on the teachings of industry leaders, like Liz Lipski, Ann Louise Gittleman, Dr. Mark Hyman, and Dr. Robert Morse.
A gateway program: This is a fast, reasonably priced coaching system that guarantees your clients quick results with minimal financial investment on their part. Perfect for getting that noncommittal client in the door who may not have been ready to sign up for a longer program.
Programs that can be used in multiple ways: There's more than one way to rock Done-For-You programs – both on and offline. In-person workshops, keynotes, presentations, even as static programs can make you money while you sleep.
Let me help you build your business THE RIGHT WAY.
Get immediate access to your FREE Health & Wellness Coach Newsletter Strategy Kit
HEALTH & Wellness Coach Newsletter Strategy Kit
FREE Health & Wellness Coach Newsletter Strategy Kit for new and seasoned Health & Wellness Coaches looking to start or expand their practice using time-saving business tools .
In this kit you'll get:
A customizable opt-in freebie
A niche clarity guide
A newsletter strategy guide
4 Done-For-You Newsletters
HEALTH COACH BUSINESS STARTER KIT​
FREE Health Coach Business Starter Kit for New And Seasoned Health Coaches Looking To Expand Their Practice Using Time-Saving Business Tools Proven To Work.

HEALTH COACH BUSINESS TOOLS GIVEAWAY
Every health coach needs an extra hour in the day or a miracle to get that endless to-do list checked off. With the FREE Health Coach Business Tools Giveaway you'll have more freedom to get your other tasks accomplished.​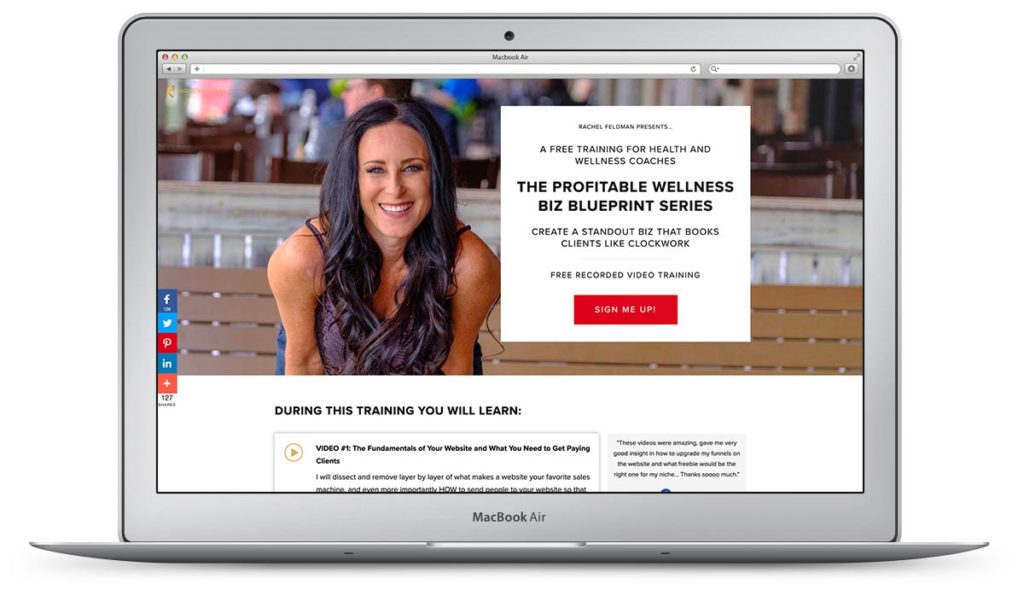 The Profitable Wellness Biz Blueprint Series
A FREE recorded video training for Health and Wellness Coaches. Create a standout biz that books clients like clockwork.

Health & Wellness coach List-Building 101 Series
A FREE recorded video training for Health and Wellness Coaches. Build your list that turns customers into clients like clockwork.

Rachel Feldman is a wellness momma, health coach, and business niche coach. After health coaching, she realized she needed to help health coaches to change the world. Rachel helps her clients to build epic businesses online and offline using a strategic sales funnel even if they are a new coach.After only earning 13K her first year in coaching, she knew she needed to learn how to create a sustainable business built with a solid sales funnel. Rachel went from making 13K to 72K by year 2 1/2 and then broke six figures in her third year of business.
Today, Rachel teaches the same system she built her successful health coaching practice to other health and wellness professionals. She's helped more than 8,000 health coaches rock their biz to the next level making the money they deserve.  Rachel Feldman, Owner of rachelafeldman.com, Health Coach and Business Coach, Contributor at Forbes, Huffington Post and Thrive Journal.
She works with coaches in her private practice and is the creator of the Done For You Programs for Health Coaches. She created these programs for coaches so they could spend less time creating and more time marketing their business and brand. She knows the importance of saving time being a Mom and a CEO.  You can find her work at www.rachelafeldman.com and www.yourhealthcoachbiz.com
My name is Rachel A. Feldman
I am a kick-ass business coach for health and wellness professionals, who are sick and tired of having businesses that do not attract the ideal client or when they do, they do not have a system to teach them. I help them define niche, story, backstory, a system, and a leak-free business sales funnel. I had my own health struggles that lead me to be a health coach and then organically became a biz coach after my struggles and mastered my own leak free business funnel system. I went from making 13k to 6 figures by year 3 and now I am proud to say, I rock a business that feeds my soul, my spirit, and my family.